HuggleCause: Warrior Canine Connection & How To Support Troops This Veterans Day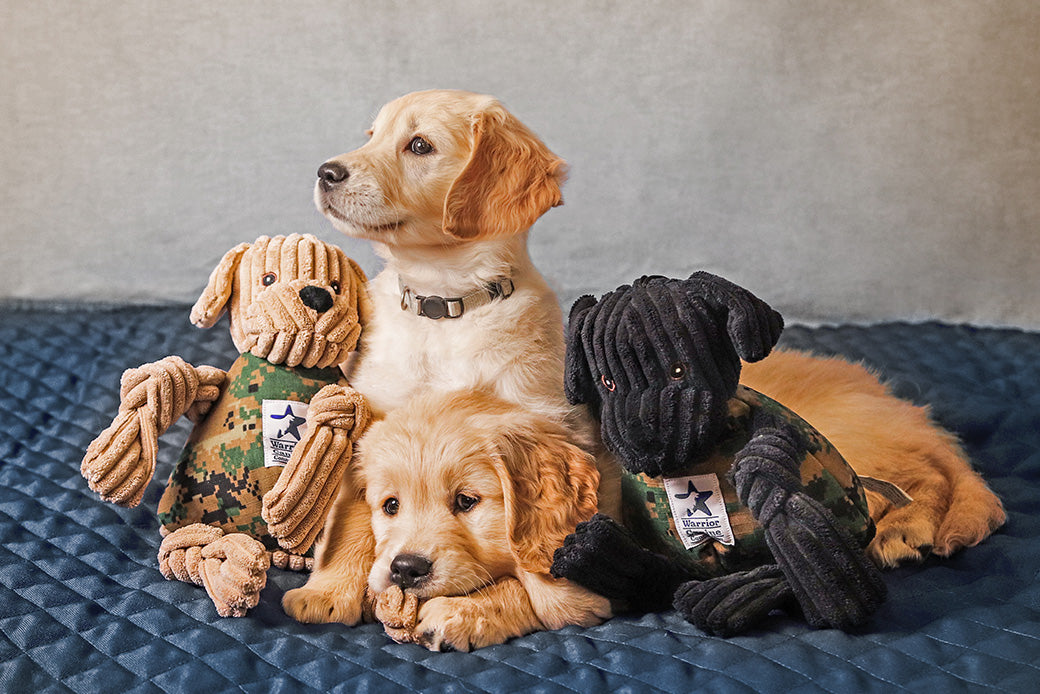 Veterans Day is observed every November 11th to recognize those who have served in the Armed Forces and to pay a debt of gratitude to these American patriots who protect the country we deeply love.
For some Veterans, the price of freedom has been high. And for those who have lost a part of themselves, whether it is physically or emotionally, we want to help how we can and do whatever it takes to support our troops. For the remainder of 2022, we are partnering with Warrior Canine Connection (WCC).
What is Warrior Canine Connection?
Warrior Canine Connection is an organization whose mission is to provide support for disabled Veterans and military servicemen and women with the help of certified service dogs that WCC trains. Training a service dog for a fellow Veteran provides a valuable opportunity for a Warrior suffering from psychological injuries to regain skills lost, reintegrate into civilian life, and reconnect with their families, communities, and lives.
As part of their training, Warriors are responsible for teaching the dogs that the world is safe. Through that process, they must convince themselves of the same. They forge a genuine human-animal connection that can never be taken for granted.
Warrior Trainers and WCC have seen incredible results through their programs. They're able to continue to do the work they do because of the support of people like you. When you support this HuggleCause™, you support troops and dogs alike in finding a safe way home.
You can help us in supporting WCC when you purchase the Luke and Tommy II Limited Edition Knottie®. For every Knottie® sold, we will donate a portion of the proceeds to this amazing non-profit so that they can continue to serve our troops and dogs nationwide.
Show Your Support for Troops this Veterans Day
If you're interested in committing to a cause to support the troops this Veterans Day, consider purchasing a Limited-Edition Warrior Canine Connection Luke Lab and/or Tommy II Knottie® to support WCC. Whether it's simply ordering one for your pup, a service member you love, or a local shelter that could use the toys, your support is greatly appreciated.
This is one way to stand in solidarity with our troops this Veterans Day and every day. Consider ordering the Limited-Edition Luke and Tommy II Knotties® and donate a portion of the proceeds towards our HuggleCause, Warrior Canine Connection, now.
Backed by our HuggleHeart Promise™
Each HuggleHound™ is made with care to be a lasting companion for your companion. Look For Our Heart™ to know you're getting a hand-stitched HuggleHound™ with our one-of-a-kind designs and exclusive Tuffut Technology®!