Welcome Ruff-Tex® Toys Home for the HuggleHolidays!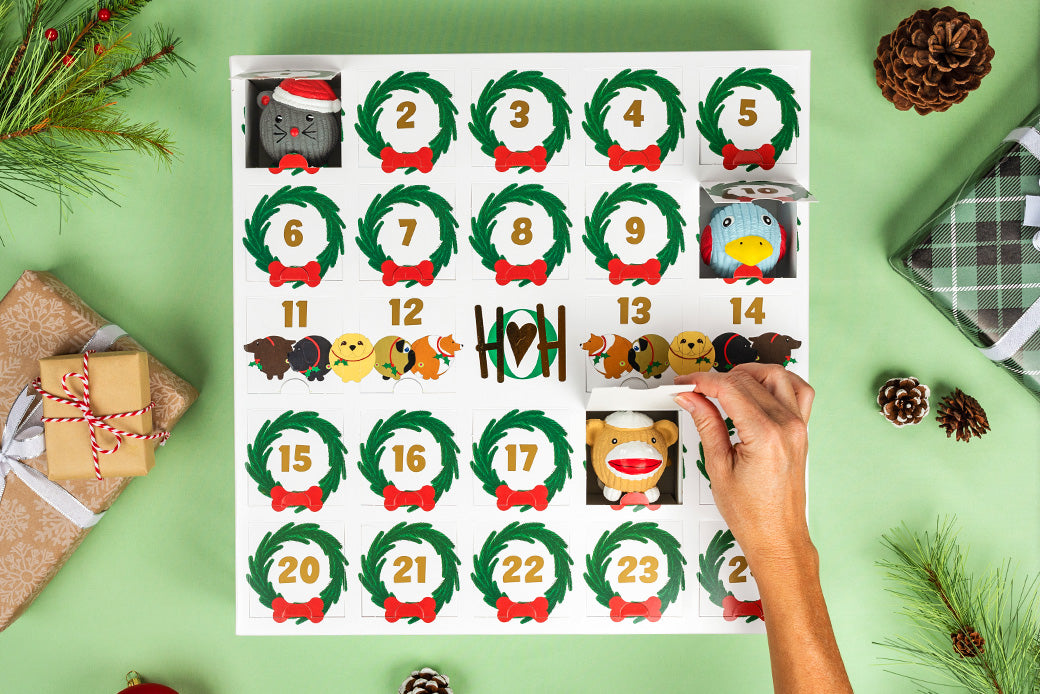 The holidays are almost here! Sharing the love and spreading joy is a big reason for the season. Whether you're a pet owner who wants to spoil their furry family or a pet lover who wants to buy something special for their local shelter, don't leave the pups in your life out this holiday season.
We have the perfect way to show the pets in your life some love with our Ho-Ho-Hugglehounds® Advent Calendar. It's beautifully printed in vibrant colors, accentuated with metallic gold, and perforated with 24 doors revealing a curated collection of bouncy, squeaky Ruff-Tex® toys, leading to a one-of-a-kind golden mystery toy on the final day!
Ruff-Tex® toys are constructed with thick-walled latex and have excellent tear-resistance and tensile strength. They are bounceable, stretch-able, squeezable, ball-like creatures made from all-natural materials. All Ruff-Tex® toys are hand-painted with paints that meet child safety standards.
Advent Calendar toys range from a mix of HuggleHounds® bestsellers, some returning limited editions, and a few never-before-seen characters. We combined the best of the best to create a magical Christmas countdown for you and your pup to share together. Get to know some of our Advent Calendar toy features below!
Finn the Shark
Finn the Ruff-Tex® Shark sports a blue and gray body, and with his goofy, toothy grin, he's the friendliest fin you'll see in water or on land. Finn's a Limited Edition Ruff-Tex® toy that's hard to find these days, but he's back to spread some holiday cheer. Your pup can enjoy year-round fun with Finn, whether it's in the snow or in the water.
Morris the Moose
Morris the Moose is ready for Christmas! Besides having his beautiful profile featured on so many sweaters and Christmas decorations, Morris is here to play. He's a colorful and fun toy that's sure to capture the attention of all pups. Cozy up with Morris and more of the Ruff-Tex® toys with the Advent Calendar.
Carmine the Cardinal
Did you know that a male cardinal's deep red at Christmas signifies Baby Jesus, and that's why cardinals are associated with Christmas? Carmine's brilliant red and bouncy feathers are the perfect Christmas feature in our Advent Calendar. Easy to find in the snow with the bright red royal color, you don't want to miss Carmine. See Carmine fly with fun when you play with him and your pup.
Poppy the Owl
Hoot goes the owl as the snow falls. Poppy the Owl Ruff-Tex® is designed to get tails waggin'! She's ready to sing a Christmas carol and spread the holiday cheer when you open her Advent Calendar door. Poppy's hard to find on our site now-a-days but she's back to play because she LOVES Christmas. Bring Poppy and friends home!
Santa Claus
What's Christmas without Claus? Santa makes his big entrance on the second to last day of our Advent Calendar. Can you believe he's not our surprise guest? Santa loves to spread the cheer to all, including your dog. Our sweet seasonal Santa Ruff-Tex® is here to help bring all the toys home. Snuggle up with Santa and your pup this holiday season!
Start Your Holiday Season with HuggleHounds!
Meet the toys above and so many more when you bring home the Holiday Advent Calendar! Featuring more fun friends including the Holiday Mouse & Penguin, this is one great way to bring home friends for your pup to last for the whole new year.
We know better than most that waiting for the last minute to do all of your holiday shopping is stressful. Let us help take the pressure off; purchase the Ho-Ho-Holiday Advent Calendar from HuggleHounds ahead of time or if you need something big to put a bow on Christmas for pets. It's the bounciest countdown to Christmas imaginable!
Backed by our HuggleHeart Promise™
Each HuggleHound™ is made with care to be a lasting companion for your companion. Look For Our Heart™ to know you're getting a hand-stitched HuggleHound™ with our one-of-a-kind designs and exclusive Tuffut Technology®!