Have you heard of PlayKat™ cat toy? It's a really cool, interactive cat toy from HuggleKats® that's designed to keep your furry friend happy and entertained! It's super smart and interactive, so your cat will never get bored.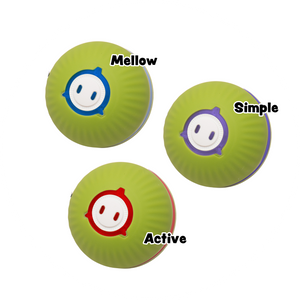 3 play modes
PlayKat™ ball can switch between 3 play modes to suit your cat's personality and play style: Mellow (blue), Simple (purple), and Active (red).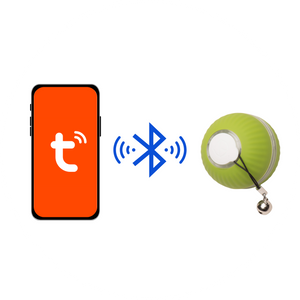 Bluetooth controlled
PlayKat™ ball can connect to the Tuya Smart app via Bluetooth for even more interactive playtime.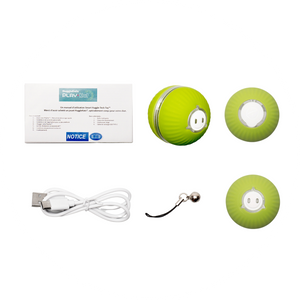 Includes
PlayKat™ ball with motor, replacement shell cover, detachable bell, instruction manual, Type-C USB charging cable.
Cats everywhere are crazy for PlayKat™
Keep your cats engaged and entertained. PlayKat™, with its three play modes, will delight even the most finicky feline.
PlayKat™ is easy to use!
Have you got questions? We got the answers. We are here to help you and your cat successfully use and care for your New PlayKat™ ball.
Frequently Asked Questions
We've got something super fun and healthy for your furry buddy! Say hello to the HuggleKats® PlayKat™ - an awesome interactive cat toy ball that starts moving, shaking or bouncing as soon as it's turned on. The LED lights that light up make it even more exciting for your cat to chase and catch. With this toy, your cat will have a blast playing while you can sit back and relax, knowing they're getting the exercise they need.
Hey there! Have you heard of the HuggleKats® PlayKat™? It's an interactive cat toy ball that can be switched between three different modes to suit your cat's personality and needs. You can choose between mellow (blue), simple (purple), or active (red) modes, each with its own-colored LED lights that light up and make it even more exciting for your cat to play with. Plus, switching between modes is easy - you can either press the button directly on the ball or do it through the mobile app. Your furry buddy is sure to have a blast with the PlayKat™ while getting the exercise they need.
Hi there! Have you tried controlling your cat's toy ball with the mobile app? By pairing the ball via Bluetooth, you can easily steer it in any direction, switch between modes, and even check the remaining battery power. It's a smart and convenient way to interact with your furry friend and make playtime more enjoyable for both of you. Give it a try with the HuggleKats® PlayKat™!
Hey there! Did you know that the PlayKat™ ball interactive cat toy has a "Find My Ball" feature? With just a tap on the app, you can activate the seek function and the ball will emit a beeping sound, making it easier for you to locate it in case it goes out of sight. No more worries about losing it during playtime. Give it a try and enjoy a stress-free playtime with your furry friend!
Hi there! PlayKat™ ball cat toy has a replaceable and waterproof shell that's made from safe and eco-friendly materials. You don't have to worry about cleaning it too much because it's easy to wipe the surface with a damp paper towel to maintain its cleanliness. Plus, you get an extra shell in the package in case of damamge to the original shell for added convenience. It's important to regularly check and clean the surface of the cat toy before playtime to ensure your cat's well-being.
Hey there! Just wanted to let you know that this product has a quick charge feature and long standby time. With a built-in battery and Type-C USB rechargeability, it can be fully charged in just 30 minutes. Once charged, it provides up to 4 hours of continuous playtime. This is great news for pet owners who want to keep their cats entertained without interruption for long periods of time.
Hey there! Just a helpful tip for introducing this new toy to your cat. It might be a good idea to start with the mellow (blue) mode to allow your cat to get comfortable with the ball. Some cats can be easily frightened by new toys. Let the ball roll around slowly and observe your cat's reaction. If your cat seems to enjoy it, you can gradually increase the activity level to see what your cat prefers. However, if your cat is scared, don't worry. Just let the ball roll around and leave it in place for a while until your cat gets used to it. Repeat as often as necessary.
Hi there! PlayKat™ ball is an interactive cat toy that can be connected to and controlled through the Tuya Smart App via Bluetooth. If you have followed the pairing directions provided in the instruction manual or instructional video and still cannot connect the device, we recommend clearing the Cache in the Tuya app settings. Here's how to do it: Open the Tuya app on your smart phone. Click on the "Me" tab on the bottom right corner. Click on the settings symbol on the top right corner of the screen. Scroll to the bottom of the page and find the words "Clear Cache". Tap on "Clear Cache" to reset to 0.0M. After this is completed, try adding a new device again by following the directions in the instruction manual.
HuggleHeart Promise™
We'll replace any HuggleHounds® product that doesn't meet your expectations. One time no questions asked!
Each HuggleHound™ is backed by our HuggleHeart Promise™!
Email: customerservice@hugglehounds.com
along with a photo of the toy and receipt. We will then issue a store credit of equal value for use on HuggleHounds.com