Benefits of Our Knottie®️ & Tehro Ruff-Tex®️ Toys for Your Dog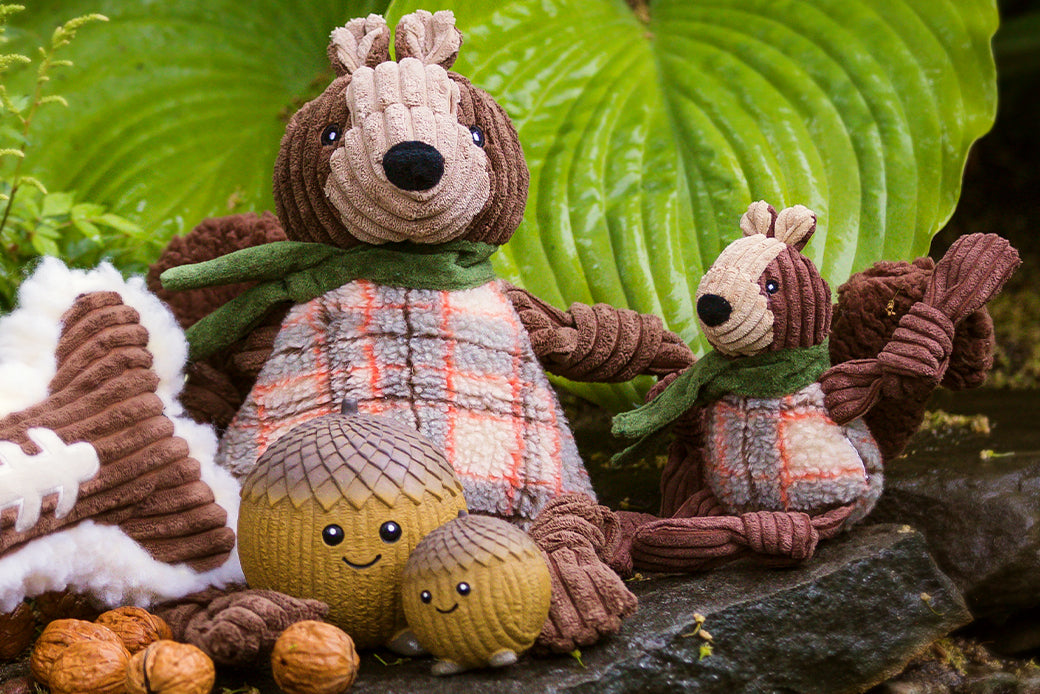 Our latest Product of the Week is our Fall Favorites Two Pack, featuring our Pistachio Squirrel Knottie® and Tehro Ruff-Tex® (Large). Here at HuggleHounds, we talk a lot initiating "play" with your dog using our toys, but HuggleHounds® aren't just dog toys. When we put our HuggleHeart on a toy, you know you're getting an authentic HuggleHounds, and our love for your dog is everywhere in that toy. Each is designed with a specific purpose to keep your dog's health and happiness in mind.
Learn more about why HuggleHounds® Knottie® and Ruff-Tex® are more than just chew toys and how we've designed them to benefit your furry family fully.
What are HuggleHounds® Knotties®? Simple: Only the (Original) and Best Knotted Dog Toy!
Our Pistachio Squirrel Knottie® is a fall essential. Decked out in the latest fashion, a soft and cozy sweater accompanied by a scarf, don't let his style fool you! Pistachio has all the qualities that make a HuggleHounds® Knottie® special: multiple squeakers, soft fabric that's perfect for cozying up with, and signature knotted limbs, and lined with our exclusive Tuffut Technology®.
What does that all mean?
Tuffut Technology®
The Knottie® is our original HuggleHounds® design, established in 2009. Knotties® are known for their signature knots and multiple squeakers that make for seriously engaging playtime, designed for durability with our Tuffut Technology®—a three-layer lining that helps even our softest toys last longer than others. When you see Tuffut Technology®, it comes with our commitment for fun and stimulation, and the most durable plush toys around.
Dog Toys That Last
Dogs are motivated and built to rip, chew, and tear – it's normal dog behavior. Playing with toys helps keep pups engaged and stimulated, and helps expend energy. Put simply: Knotties® can help keep boredom at bay! This makes Pistachio the perfect companion for family time, dinner parties, or any time you want your dog to feel cared for and energized in a productive way.
Ruff-Tex® Toys: Water Toys for Dogs
Tehro Ruff-Tex®, Pistachio the Knottie®'s Acorn pal, is full of fun bounce and hours of delightful play for pups. Tehro and all of our Ruff-Tex® toys are squeaky to engage your dog in playtime, bouncy for an added bit of fun, and buoyant so they're a great water toy, too!
Ruff-Tex® toys are thick-skinned buddies made of all-natural rubber with amazing tear resistance and high tensile strength. They're the perfect fetch toy given their bounce and design. Every Ruff-Tex is stuffed with high-quality PU foam, making it a bounce-able, stretchable, and squeezable playmate.
​​Each HuggleHound™ is made with care to be a lasting companion for your companion! The latest Product of the Week is a great 2-for-1 option when it comes to toys for your pet – one to chew and one to chase!
The More You Know!
There's a reason we do what we do, and we love doing it! We give our dogs toys to enjoy because we care and want the best for them. Toys provide emotional balance and physical & mental stimulation. We keep this in mind for all of our toys and know that our products are so much more than just dog toys. HuggleHounds® keep your dog busy and promote problem-solving skills, fulfill instinctive drives, and overall, help your dog expend energy! Products like our Fall Favorites pack are made with multiple kinds of stimulation in mind. The next time you see a Knottie® like Pistachio or a Ruff-Tex® like Tehro the Acorn, you'll know why they're designed the way they are beyond being absolutely adorable.
Backed by our HuggleHeart Promise™
Each HuggleHound™ is made with care to be a lasting companion for your companion. Look For Our Heart™ to know you're getting a hand-stitched HuggleHound™ with our one-of-a-kind designs and exclusive Tuffut Technology®!