Fun Football Game Day Ideas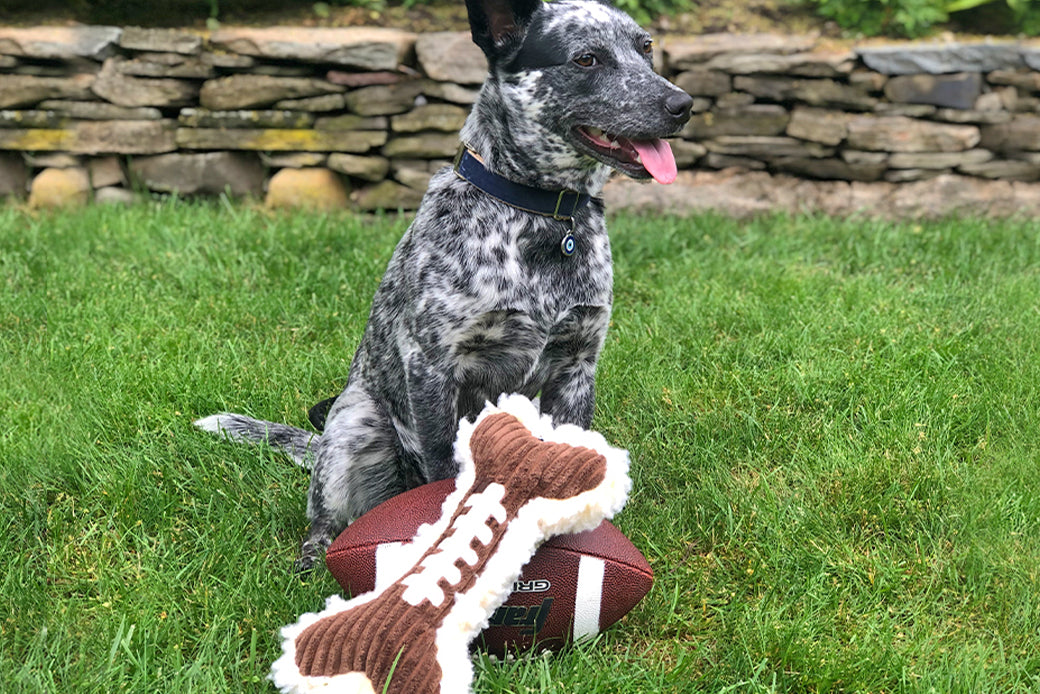 Football season is BACK! We've been ready for snagging our jerseys off the hanger instead of business attire, food that may not be good for you but tastes GOOD, and cheer on our favorite guys. Baseball may be America's pastime, but football is self-care for some of us. Lazy Sundays, time spent with friends – who could ask for anything more?
As the season kicks off, we're here to help you celebrate with some fun Game Day ideas to get your spirits up, complete with easy snack recipes, a fun pre-game game, and a good way to keep your pup busy during the 4th quarter.
Football Game Snack Ideas
Hosting Game Day is great to try new foods and show off to your friends a little bit. We know coming up with new ideas every week might be tricky, so don't worry. We've got you covered.
Next Sunday, try loaded queso with onions red or green, red peppers, and bacon as an appetizer if you're up for it. Best with anything and everything from veggies to pita bread. Make your own guacamole to go with your favorite salsa and chips. And seal the deal with some peanut butter footballs dipped in chocolate and decorated for an added bit of fun. Maybe treat your pup to a little bit of peanut butter too.
Pre-Game Game Day Ideas
Need something to do before kick-off? Invite your friends over for some fun Football Bingo. Make up a list of items to look for during the game and make the odds worth it for everyone at the party. Whether it's giving the best dessert away as a prize or the loser has to host next time, make Game Day more fun!
You can also go for the classics: play a ring toss game or throw a round or two of cornhole. Maybe even some flag football to get some energized activity in. Pick the game day teams as the competitors and play out your own Sunday Showdown!
Throw Your Dog A Bone!
Don't fumble; treat your pup on Game Day, too! The HuggleFleece® & Corduroy Pigskin Bone is the perfect way to let your pup in on the fun. Your dog can enjoy hours of stimulation, chewing away on this new favorite, while you kick back and watch your team win, win, win! Don't miss out on the fourth quarter by hushing howling or needing to take your dog out.
The Pigskin Bone isn't made from pigskin at all. It features our signature HuggleHounds® HuggleFleece®, which is made of dense, synthetic lambswool and features the same great attributes of natural lambswool. There's also the ultra-soft corduroy that's easy for your pup to shred and kicks in with those biting and shredding instincts while going easy on the teeth and gums. The Pigskin Bone is designed for more than one season's worth of fun, just like your favorite team's legacy.
Enjoy Your Game Day Your Way!
Whether it's chowing down on your favorite game day necessities, getting out and active with your friends before kick-off, or kicking back with your pup while they chew on their new favorite bone, HuggleHounds® is always here to help you and your furry family have fun.
Are you ready for some football?!
Backed by our HuggleHeart Promise™
Each HuggleHound™ is made with care to be a lasting companion for your companion. Look For Our Heart™ to know you're getting a hand-stitched HuggleHound™ with our one-of-a-kind designs and exclusive Tuffut Technology®!