Read More About Shonte'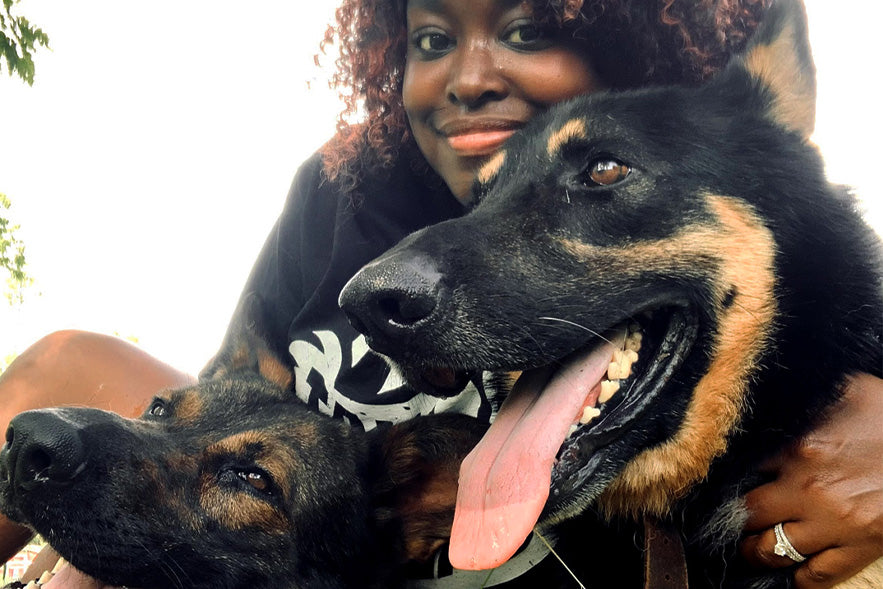 I'm getting so emotional as I try to express my love and gratitude for my dogs Tyson, Leo & Archer. My name is Shonte', and I was diagnosed with Stage 4 Metastatic Breast Cancer that has spread to my lungs, spine, ribs and hip in 2015, as my initial diagnosis at the age of 31. This will be a lifelong journey for me.
My dogs are my joy, love, support & healers. While all of my human support system is working during the day, I sit at home alone, but I'm truly not alone. My dogs are always present.
My dog Tyson who died less than a year after my diagnosis gave me the most support – he cuddled me when I was in pain, he came into the restroom as I was vomiting, he never left my side when I was on crutches although I still had to walk him, he was so patient, he even became depressed when I was diagnosed but still thought of me when I was down and tried to cheer me up. I miss him so much.
When he died, I didn't want another dog. I felt I wouldn't have the energy, so I too became depressed. So, my husband sprung into action and got me two more German Shepherds, Leo & Archer, who are my rocks. Leo is the nurturer and Archer is my comedian, with so much energy. They are my balance. My dogs will always be with me even when I feel alone.
A dog's love is vital to my quality of life and purpose, they literally get up out of bed daily, even on my bad days. I know I will be good as long as I have them around, even during my last waking breath.
Shonte'
Pictured: Tyson, her late tan and white German Shepard, Leo, her Black German Shepard and Archer, her Brindle German Shephard
Backed by our HuggleHeart Promise™
Each HuggleHound™ is made with care to be a lasting companion for your companion. Look For Our Heart™ to know you're getting a hand-stitched HuggleHound™ with our one-of-a-kind designs and exclusive Tuffut Technology®!