Fall 2021 HuggleCause™ - Living Beyond Breast Cancer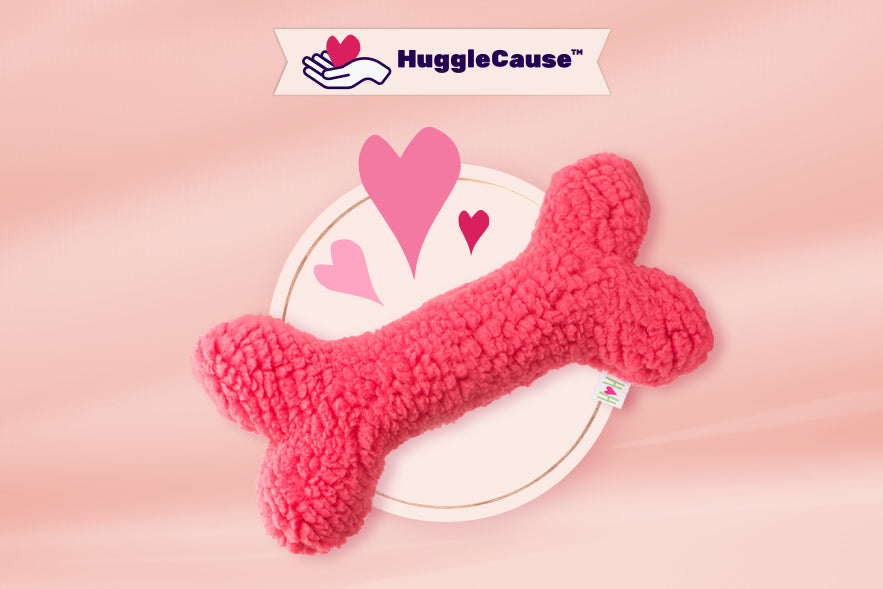 Welcome to our Fall 2021 HuggleCause™ initiative! We're thrilled to introduce our Limited Edition HuggleFleece® Bone, and fittingly, our Fall campaign centers on October and Breast Cancer Awareness Month, and with it, our support of Living Beyond Breast Cancer.org. A portion of the sales of all HuggleFleece® Bones will be directed to LBBC, a national nonprofit that connects people with trusted information and a community of support. Understanding the positive role and beneficial companionship pets play during treatment and recovery, HuggleHounds® is honored to support LBBC.
LBBC works to create a world that understands there is more than one way to have breast cancer. To fulfill their mission of providing trusted information and a community of support, Living Beyond Breast Cancer offers on-demand emotional, practical, and evidence-based content that is meaningful to those newly diagnosed, in treatment, post-treatment, and living with metastatic disease.
For 30 years, Living Beyond Breast Cancer has imparted wisdom and connection via conferences, events, a peer-to-peer helpline, and more. Today, they remain committed to creating a culture of acceptance—where sharing the diversity of the lived experience of breast cancer fosters self-advocacy and hope. 
Through their programs, services, and support they provide, we all can live with a vision of a world where no one impacted by breast cancer feels uninformed or alone. Living Beyond Breast Cancer pledges to stand beside women, elevating the voices of all people impacted by breast cancer, and to see and share the diversity of all the individuals, families, and communities touched by this disease says Jean Sachs, Living Beyond Breast Cancer's CEO.
Through their uplifting message of empowerment and unique network of resources, LBBC makes a profound impact on women working with, and through, breast cancer.
Backed by our HuggleHeart Promise™
Each HuggleHound™ is made with care to be a lasting companion for your companion. Look For Our Heart™ to know you're getting a hand-stitched HuggleHound™ with our one-of-a-kind designs and exclusive Tuffut Technology®!