Holiday Tartan Bone: Where Red Tartan Comes From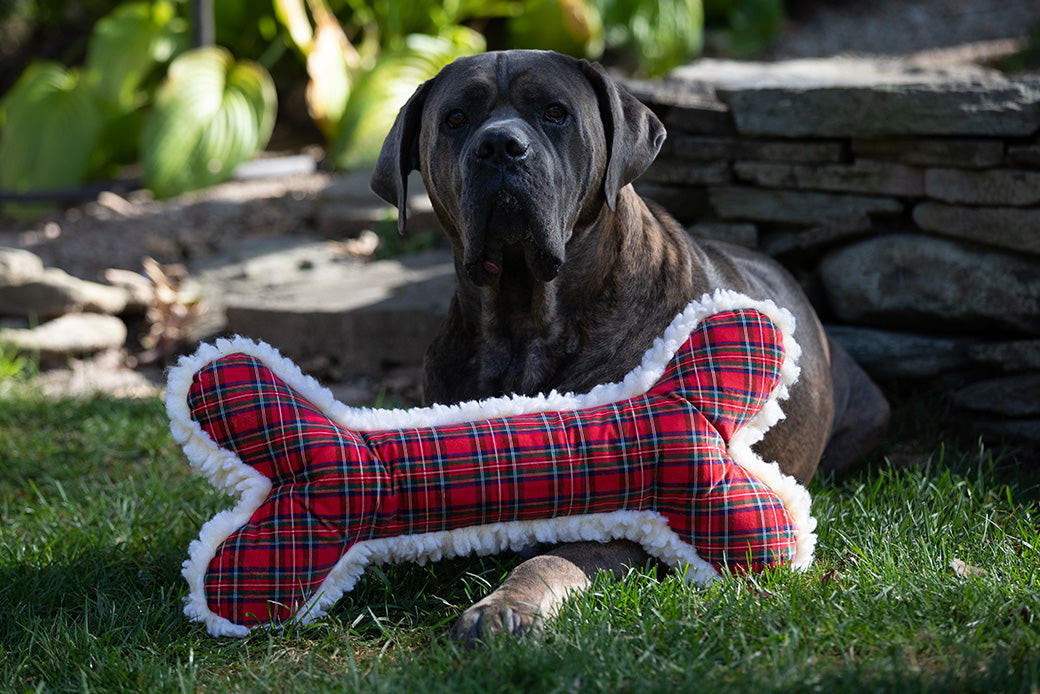 Why Is Tartan Associated with Winter?
Our Tartan & Natural HuggleFleece 2' Bone with invincible squeaker is a great holiday stocking stuffer for the dog in your life this year. Whether it's for your own pup or your dog best friend, the Tartan on this bone makes it extra festive and fun.
How did tartan come to be associated with the holidays and winter solstice as a whole though? What does the pattern on tartan mean and why those colors? We learned some interesting history behind the Tartan print that we want to share with you!
Where Does Tartan Come From?
Tartan comes from Scotland. It's a way to distinguish clans from one another, symbolizing family colors, connections, and history. Your tartan represented where you came from or maybe where you were going based on your family's land ownership and allies.
Tartan was outlawed for a time by England, to force Scots into giving up their culture and adopt the English way of life. Today, tartan is no longer outlawed and remains a prominent symbol of Scotland.
What Does the 'Christmas' Tartan Pattern Symbolize?
Tartans have meaning, and the Tartan bone is no exception. Sure it's a sign of good times and love for your pup by sharing a toy they can chew and gnaw through the winter months, but there is something special about the festive Tartan seen so often around the holidays.
The Christmas Tartan is inspired by the birth of Jesus, related to the Scots history as Celtic Pagans. When temps dropped and the Highland climate became all the more intense, Scots celebrated the winter solstice to brighten the shortest, darkest day of the year. It was also to ask their gods for the sun to come back soon. This often meant large gatherings of different clans, plenty of food and drink, and storytelling around the fire (NTS.org).
Christmas Tartan Color Meanings
Green represents Frankincense. Red represents Myrrh. Yellow represents gold, associated with kingship. Gold, frankincense, and myrrh are the gifts given to the Baby Jesus by the three Kings in the nativity story, that are symbolic of Jesus' life and death.
You may also see what's called Buffalo Plaid more throughout Christmas time, either at your family homes or in mountain lodges. Believe it or not, this tartan actually belongs to the Highland Clan MacGregor (Busy Bees Kids). Remember next time when you see a tartan that there's a greater story behind it. It's festive and cozy, and welcome year-round.
Give Your Dog a Tartan Bone This Holiday Season
It's an unwritten style rule that red tartan plaids are reserved for the holidays season. Plaid is a classic holiday pattern that never goes out of style, and even if it isn't the holidays, you can reverse the Tartan bone to show off the super soft HuggleFleece®. The invincible squeaker provides your pet with plenty of hours of mental stimulation, which is great during those colder winter months. Give your dog a Tartan bone when it may be best to stay in and snuggle rather than play in the cold.
Easy to wash and festive for an added bit of fun, this is one gift you can count on this holiday season. Sign up for our newsletter to receive 10% off your Tartan bone buy, or your first purchase as a whole! We know it may sound crazy to start your holiday shopping so soon, but it will be here before you know it, and we're here to help you check one special gift off your list.
Backed by our HuggleHeart Promise™
Each HuggleHound™ is made with care to be a lasting companion for your companion. Look For Our Heart™ to know you're getting a hand-stitched HuggleHound™ with our one-of-a-kind designs and exclusive Tuffut Technology®!