12 Huggles of Christmas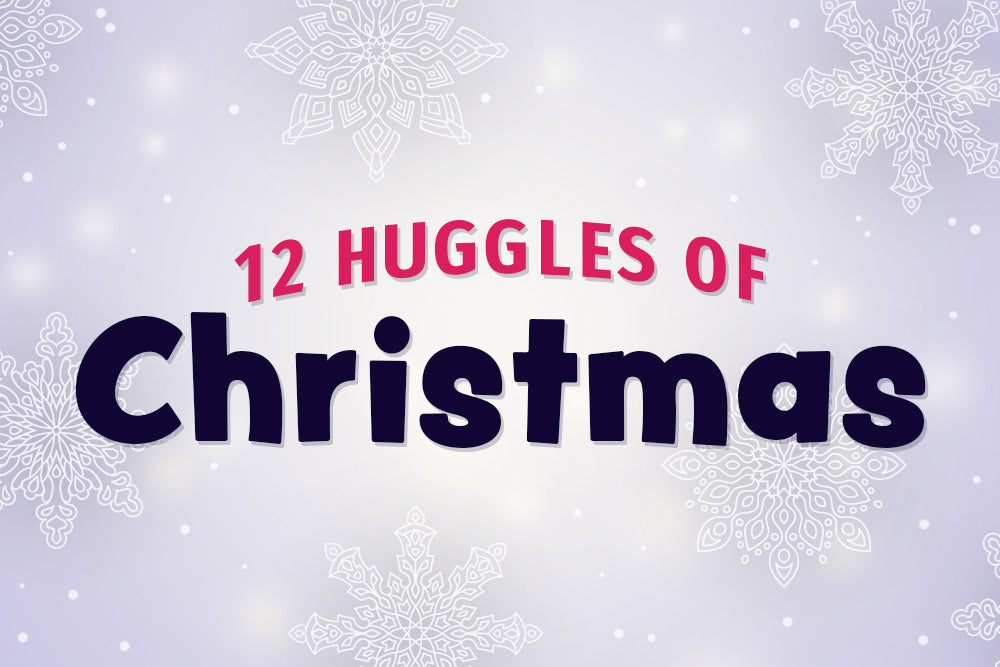 It's the holiday season! Here is a list of the 12 HuggleHounds® approved ways of celebrating.
Giving Back
We're lucky to support some of the most inspiring non-profit organizations and we want to give you a way to join in on the generosity. Add some new toys to your cart, and before checking out, take a look at the options to donate to them. After all, there is no better feeling than knowing you've made an impact!
Spreading Cheer
What better way to spread cheer than gifting a HuggleHounds® toy to the pups who have permanent spots on the nice list? Check out our
seasonal favorites
for some inspiration.
Secret Santa
Santa Claus? You mean Santa Paws, right? Organize a secret Santa gift exchange with fellow pet parents. Give a gift, get a gift, and the dogs involved will be oh so happy.
Donating Old Toys
An old toy of yours can be a new toy to another pup. Consider cleaning out that toy bin and passing along your used toys to dogs in shelters. You'll make a dog's day!
Sending Cards
Who doesn't love to share pictures of their pups? We created a special HuggleHounds® holiday card template for you to plug in your own pictures. Send to friends and family or share it on social media and tag @hugglehounds for us to see!
Click the image above to download our frame. Once you've downloaded the image, use any image editor you feel comfortable with and place the frame image on top of your desired holiday card photo! For the highest-quality card, crop the file at 782  pixels wide x  556 pixels tall.
Baking Treats
Sure, we're all about Christmas cookies here- but let's allow the dogs in on the delicious fun! While baking your array of cookies, we suggest adding a recipe to the mix that is pup friendly. Dogs deserve a holiday treat, too!
Watching Movies
A Dog Named Christmas, Santa Paws, Beethoven's Christmas Adventure, and even How the Grinch Stole Christmas are great movies to get you in the holiday spirit- they also remind us how special our pups are to us.
Decorating Trees
Picture this- a HuggleHounds inspired Christmas tree! Stock up on our Wee sized toys and use them as the ornaments, pick out string lights that suit your fancy, and top it off (literally) with your favorite Knottie™ as the star!
DIY Ornament
1 cup of salt, 1 cup of all-purpose flour, and a ½ cup of water will lead to the most adorable puppy paw print ornament! Mix the components, roll into balls, and flatten them out into circles. Next, press your dog's paw into the dough and use a straw to make a hole at the top. Once your ornament looks good, bake in the oven at 200 degrees for 2-3 hours or until dry. Once it cools, finish it off with a ribbon to hang on your tree. That's all it takes!
Building Gingerbread Houses
We're paying homage to the pups this holiday season so how about a gingerbread DOG house? We're into it.
Attending Pet-Friendly Holiday Outings
Cutting down your own Christmas tree? Bring your dog! Attending a Christmas tree lighting ceremony? Bring your dog! Taking a drive to look at your neighborhood Christmas lights? Bring your dog! They will be so happy to be around you and all the joy that comes with the holiday season. Ensure that pups are permitted at these outings prior to the event to be safe.
Enjoying Family
Perhaps the most valued aspect of the holidays, spending time with loved ones and assuring them how valued they are is the reason for the season! This goes for our furry friends and Huggle-Family, too.
Backed by our HuggleHeart Promise™
Each HuggleHound™ is made with care to be a lasting companion for your companion. Look For Our Heart™ to know you're getting a hand-stitched HuggleHound™ with our one-of-a-kind designs and exclusive Tuffut Technology®!