NEW Tuffut Toys!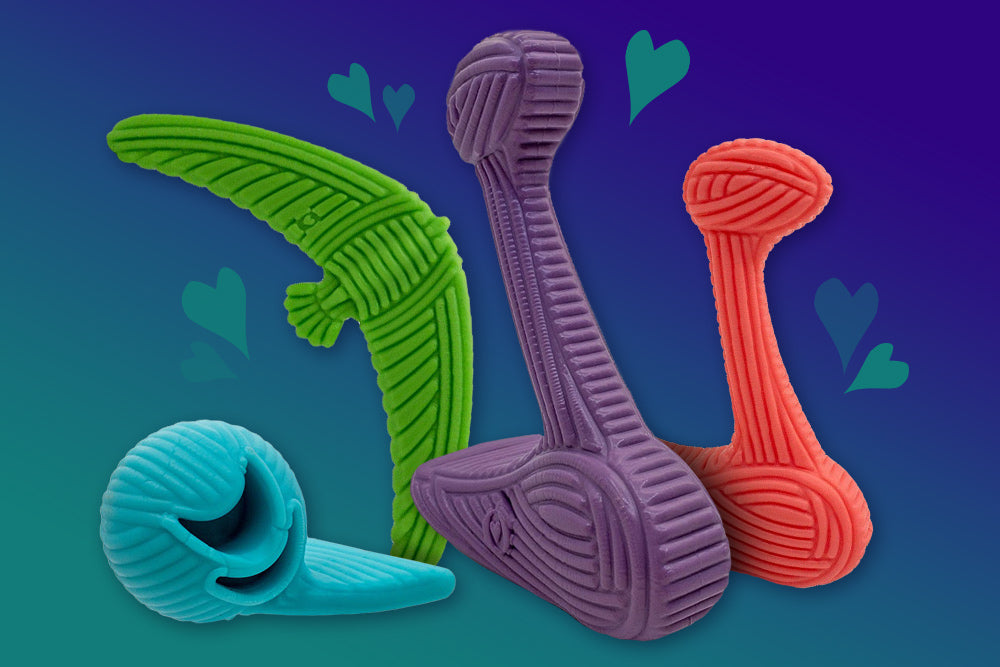 Is your dog a snuggler? We've got you covered. Does your furry friend love to play fetch? We have what you need! Is your pup a tug-of-war champion? Check! Does your doggo desire to destruct all toys through the power of chew? Well, guess what? HuggleHounds® now has a toy for that, too!
We aim to make happy dogs and to ensure the pleasure of ALL pups. We are proud to introduce our new (super) Tuffut™ Toys. These chew toys are made in the USA and are a (tuff) chewing, (ruff) playing dogs' delight.
HuggleHounds® Tuffut-Lon™ is just about the most durable toy you can find. This one is for the champion chewer in your pack and will challenge your dog more than ever! To make it even more irresistible, Tuffut-Lon™ toys are flavored with our exclusive Grilled Chicken flavoring.
HuggleHounds® Tuffut-Flex™ toys are a softer, more pliable version of Tuffut-Lon™. Designed for both dedicated and more moderate chewers who prefer a softer feel, Tuffut-Flex™ toys are durable, bouncy, floatable, and loads of fun!
Not sure if your pup's playstyle is suitable for Tuffut-Lon™, Tuffut-Flex™, or any of our other desirable lines? Check out our new quiz, "Find the Best Fit For Your Furry Friend!". 
By pairing your pup up with a toy that suits their playstyle, you are more likely to find satisfaction and your dog will find happiness (and we sure do <3 happy dogs!). Take our quiz today and learn more about all the products HuggleHounds® has to offer.
Backed by our HuggleHeart Promise™
Each HuggleHound™ is made with care to be a lasting companion for your companion. Look For Our Heart™ to know you're getting a hand-stitched HuggleHound™ with our one-of-a-kind designs and exclusive Tuffut Technology®!