BADRAP: Changing the Game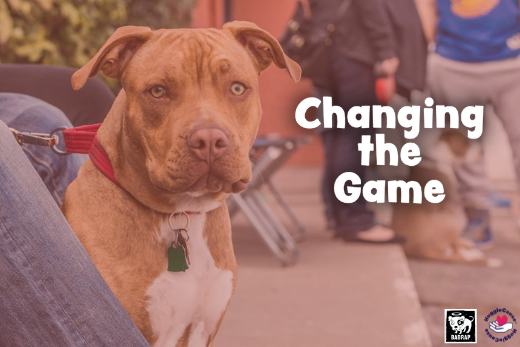 BADRAP, on a surface level, is known for their dedication and care towards pit bull-like, blocky headed dogs, and sure, that's how it all began in 1999, but since then, their mission has evolved.
The organization has become a resource for both dog owners and shelters, offering desirable pets for adopters, training classes for dog owners, and presentations and professional consultations to animal welfare leaders around the country.
The Rescue Barn the Rescue Barn is a small holding facility with a quiet, homelike feel, set on half an acre with six kennels. BADRAP created the barn to provide dogs the opportunity to decompress from early traumas and begin their transition to new lives and homes.
The Keep'Em Home Project The Keep'Em Home Project to help families maintain their bond with their dog(s) during times of crisis
Conference Presentations BADRAP travels to support shelters in their efforts to create programs that provide support to pit bulls and their owners.
Pit Ed Classes BADRAP offers free and low-cost training classes to help participants strengthen their relationship with their pets while learning basic handling skills and other valuable practices.
However, it doesn't end there. Dedicated to providing a wide array of resources, the amazing people at BADRAP find themselves supporting various causes throughout the community.
"We tend to bend our activities to fit the needs in our community and those needs change, sometimes rapid fire, depending on what's bringing challenge to dog owners. One season we might be helping people who lost homes in wildfire to get safe housing for them and their pets, and when wildfire season is over, we listen to see where new problems are cropping up."
- Donna Reynolds (Founder of BADRAP)
Join us in our support of BADRAP and their mission by purchasing our Blocky Bob Knottie® here. A portion of the proceeds will benefit the organization to help them continue positively contributing to dogs.
To learn more about BADRAP visit https://badrap.org/
Backed by our HuggleHeart Promise™
Each HuggleHound™ is made with care to be a lasting companion for your companion. Look For Our Heart™ to know you're getting a hand-stitched HuggleHound™ with our one-of-a-kind designs and exclusive Tuffut Technology®!