BADRAP: From the Bottom of Our HuggleHearts, Thank You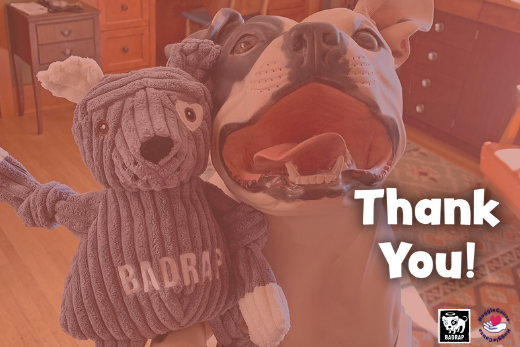 Supporting causes like BADRAP warms out HuggleHearts. With your help, we are donating a portion of proceeds from the sales of our Blocky Bob Knottie® to BADRAP to help them continue their mission.
Thank you to all who purchased a toy and/or donated to BADRAP at checkout and thank you to BADRAP for all their incredible dedication and love for dogs. Together, we can help BADRAP change the stigma on blocky head, pit bull- type dogs.

Whether you own a blocky headed breed or are a supporter who stands up for them, we encourage you to spread the word on all the good they have to offer. Just like any other dog, they are loving, playful, dependable, and make for the very best friends.
To keep up with the amazing work that BADRAP does, find them on Facebook or on Instagram @badrap_advocacy for updates and resources.
To learn more about BADRAP visit https://badrap.org/
Backed by our HuggleHeart Promise™
Each HuggleHound™ is made with care to be a lasting companion for your companion. Look For Our Heart™ to know you're getting a hand-stitched HuggleHound™ with our one-of-a-kind designs and exclusive Tuffut Technology®!