Freedom Flights & Mission Possible 15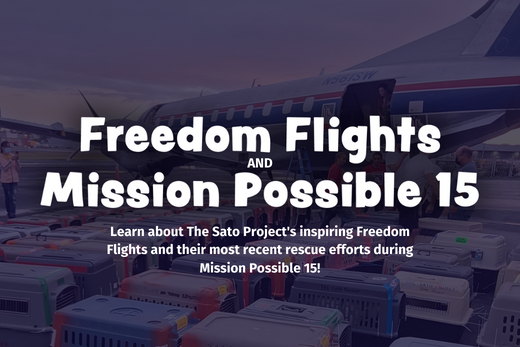 One of The Sato Project's biggest and most life changing efforts are their Freedom Flights. In partnership with Wings of Rescue, another nonprofit organization, they send 1-2 planes filled with supplies for locals of Puerto Rico and on the plane's trip home, they transport as many satos as possible to New York for adoption. 
These events happen multiple times a year, saving the lives of hundreds of animals. Planes fly into local airports where adoptive families will meet them upon arrival, or other dogs who are awaiting their forever home will be transported to a local shelter. 
This past week, The Sato Project completed Mission Possible 15; a Freedom flight that transported and saved over 300 lives. The team sent 2 airplanes to Puerto Rico near the 5th anniversary of Hurricane Maria, a natural disaster that resulted in the number of stray dogs to double. 
Freedom Flights are made possible by the generous support of sponsors and donors. Help The Sato Project continue their mission by purchasing a Boom Boom Knottie® or by donating to the organization at check out.

Visit thesatoproject.org to learn how else you can make a difference. 
Backed by our HuggleHeart Promise™
Each HuggleHound™ is made with care to be a lasting companion for your companion. Look For Our Heart™ to know you're getting a hand-stitched HuggleHound™ with our one-of-a-kind designs and exclusive Tuffut Technology®!