Pretty in Pink: Welcome Diva the Pink Poodle & Enjoy Our Other Pink Dog Toys!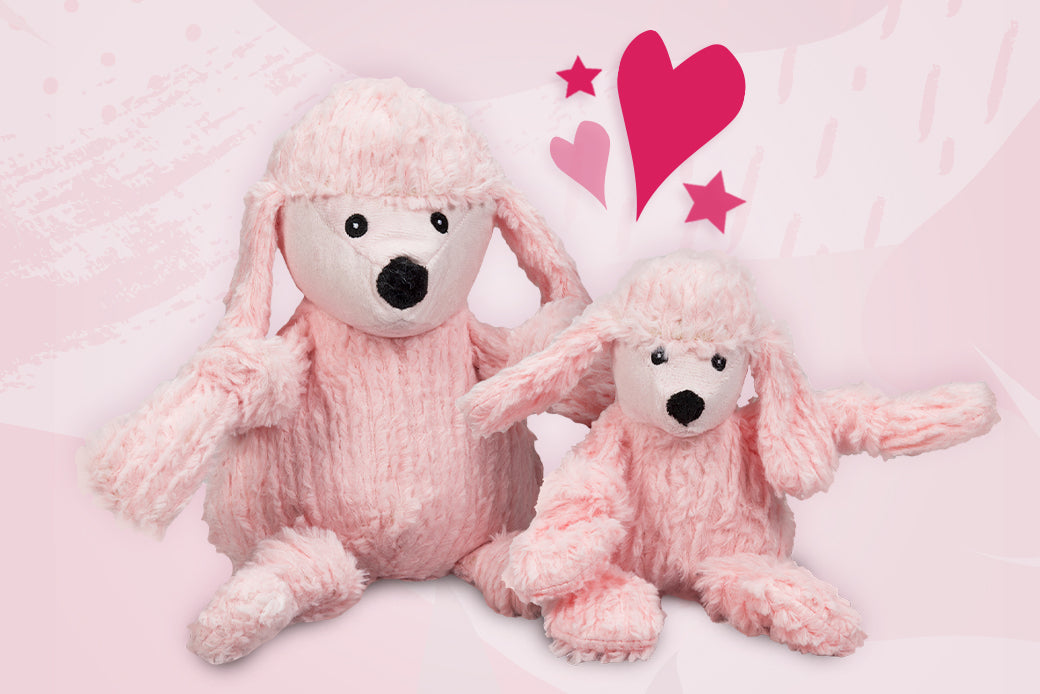 We're so excited to introduce Diva the Pink Poodle to the HuggleMutt Knottie® family! Diva is elevating the ways of the Mutts with her class, sass, and pretty in pink look. Available in large and small styles, Diva is sure to be your dog's new best friend. She also has a great group of pink friends to show her the way.
Diva the Pink Poodle Dog Toy
Diva is the most stylish poodle around with her lovely pink knots – making her a HuggleHounds® Knottie®: the original knotted, plush dog toy! Diva is durable, made with exclusive Tuffut Technology® that includes a three-layer lining on the inside so she's built for anything. This is also how she stays so soft and cuddly on the outside for your dog to love on for a long time.
We're so excited for Diva to join the mix of Mutts, Knotties®, and more as the newest HuggleHounds® toy. 
Limited Edition Pink Fleece Bone
Diva the Pink Poodle also has a toy to share with your pup. The Limited Edition HuggleFleece® Pink Bone is back! For Fall 2022, HuggleCause™ is once again supporting Living Beyond Breast Cancer, a nationwide nonprofit that provides trusted information and a community of support to anyone impacted by breast cancer. In solidarity with such amazing and tireless efforts, our Limited Edition Pink Bone is ready for hours and hours of playtime, while also sending a clear signal of support for those impacted by breast cancer. 
The Limited Edition HuggleFleece® Pink Bone is available in 12-inch and 2-foot long sizes. 
Pink Girl Dog Toys
Diva is joined by the Wild Things Sloth Knottie® and Penelope the Pig. (The Pink Ladies if you will. Anyone here love Grease?) These sweet pink dog toys are great for girl dogs, but really anyone and everyone can enjoy the company of any HuggleHounds® toy!
Wild Things Sloth Knottie® Toy for Dogs
Wild Things Sloth Knottie® has her own high-n-mighty attitude to match Diva's. It comes from being a wild thing of Central and South America, where the mountains and trees grow tall, but rest assured she still has a laid back attitude that comes with being a slowly enjoying the little things. Find her easily with that beautiful bright pink fur among all the green foliage of any rainforest. Not to mention her fabulous neck scarf that makes Sloth and Diva the best of fashionable friends. 
Our Wild Things are neon-bright, super-snuggly and like all Knotties®, lined with our Tuffut Technology® for extra durability.  Sloth is sure to show Diva how to have a wildly good time when it comes to keeping your dog entertained. 
Penelope the Pig Dog Toy
Last but certainly not least, Diva joins Penelope the Pig as another pink friend in the HuggleHounds®  family. Penelope is a long-time friend among dogs of every age and size. This sweet pink girl is built to endure hours of fun and ready to show Diva the way to being every dog's new best friend. Penelope isn't afraid to get her hands dirty and show the new toys what being a HuggleHound favorite is all about. 
Our Tuffut Technology® paired with our best-selling HuggleFleece® fabric in Penelope is what makes her extra special! With an unbelievably soft body and knotted limbs making Penelope Diva's close cousin, leaving Penelope out of the mix would mean missing out "pig" time.
A Shade Of Pink For Every Pup
Diva is sure to make fast friends with her pink predecessors! Get to know Diva and more pink dog toys from HuggleHounds® when you play with them with your pup. Durable and designed for shredding, ripping, and keeping your dog busy, this solid group of pink beauties are the perfect pals for any dog. 
Bring Diva the Pink Poodle home for your pup to play with today! 
Backed by our HuggleHeart Promise™
Each HuggleHound™ is made with care to be a lasting companion for your companion. Look For Our Heart™ to know you're getting a hand-stitched HuggleHound™ with our one-of-a-kind designs and exclusive Tuffut Technology®!