The HuggleHounds® Heart Promise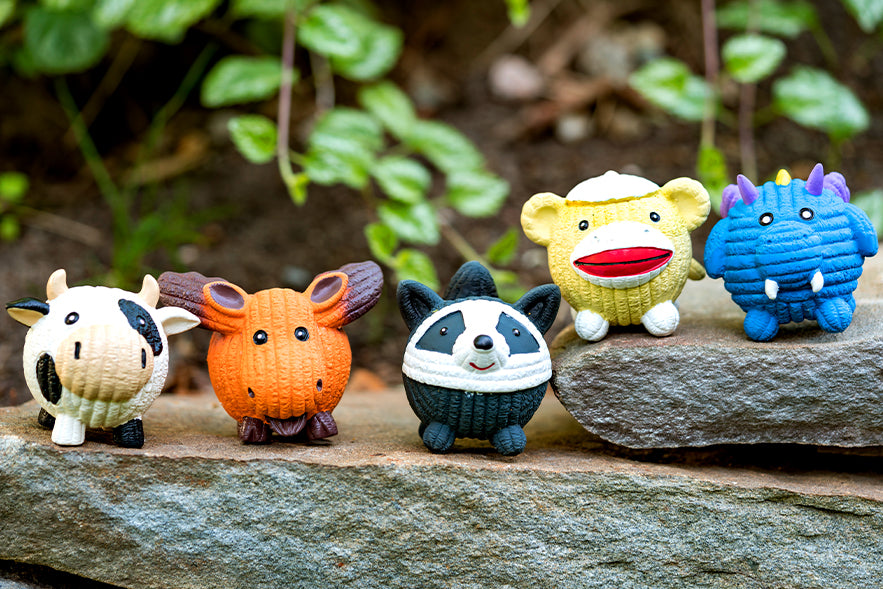 Back in 2009, Julie Krauss and Bob Flynn created the first HuggleHounds® Knottie™, using only the best stitching and lining possible. Since then, the catalogue of HuggleHounds® toys has grown by leaps and bounds, and every toy has been a completely unique creation with the same quality standards as the very first Knottie™.
If you see the HuggleHounds® Heart, you know that you have a quality toy that has been lovingly crafted for your pet. There are no substitutes. There are no identical alternatives. A HuggleHound™ is a HuggleHound™—no mistake! If the HuggleHounds® Heart is stitched to, or printed on, your fur baby's toy, you can be sure it is…
  Handmade

  An original creation

  CE certified for safety and environmental protection

  Protected by a 3-layer Tuffut Technology® lining

  Machine-washable *
* Our Ruff-Tex® HuggleHounds® are the very toughest options we offer—some even combining the thick-walled latex of a Ruff-Tex® with the Tuffut Technology® lining of our standard HuggleHounds®. (Ruff-Tex® should be spot cleaned with a damp cloth). Quality absolutely guaranteed!
Want to make sure your HuggleHounds® toy goes the distance?

Check out our care instructions and look over our troubleshooting page if you encounter any issues!
Backed by our HuggleHeart Promise™
Each HuggleHound™ is made with care to be a lasting companion for your companion. Look For Our Heart™ to know you're getting a hand-stitched HuggleHound™ with our one-of-a-kind designs and exclusive Tuffut Technology®!