Celebrate International Women's Day March 8th with Warrior Canine Connection!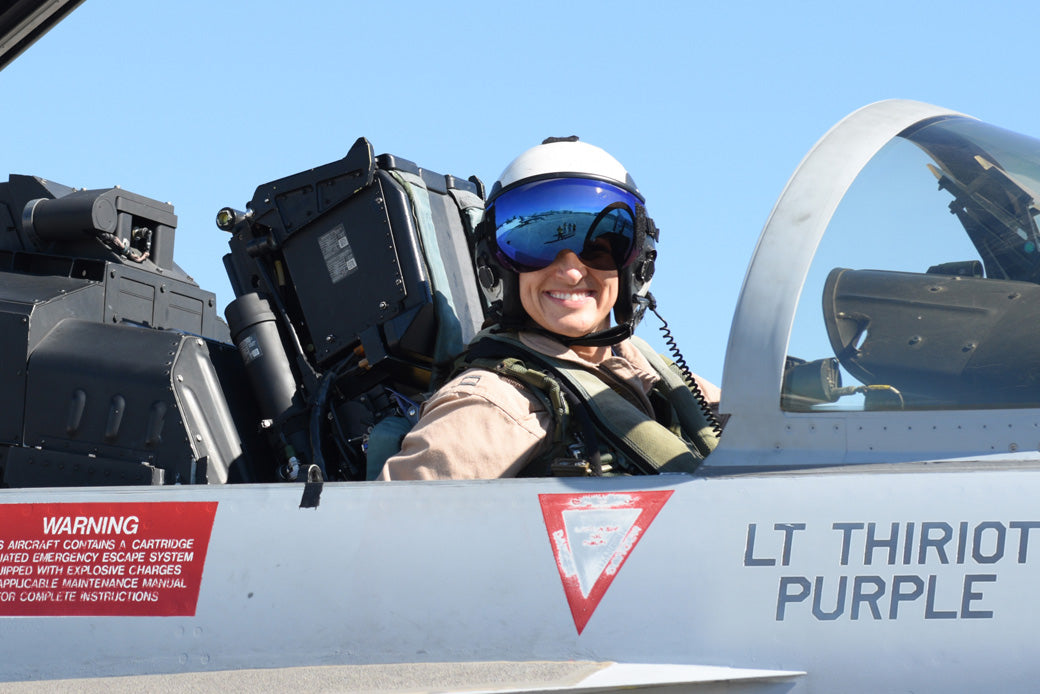 As we celebrate International Women's Day March 8th, what better way than to highlight the work of our HuggleCause™ partner Warrior Canine Connection.  One of the ways WCC honors Veterans is through their unique namesake program, with all future service dogs named after Service Members and Veterans who have made significant contributions to our nation.
A Career Of Service

United States Navy Lieutenant Commander Danielle "Purple" Thiriot, an active-duty Service Member was nominated for WCC's namesake program. The service dog bearing her name - WCC's Purple - was recently placed with a Veteran.
LCDR Danielle Thiriot was born and raised in Salt Lake City, Utah.  While attending a summer session at the U.S. Naval Academy, LCDR Thiriot was so impressed with the maturity and professionalism of the students; she knew she wanted to join the Navy. After her high school graduation, LCDR Thiriot accepted a NROTC scholarship to attend Harvard University.  She was excited for the opportunity to serve, to work in diverse environments, and to see the world.
LCDR Thiriot completed primary and advanced flight training in Florida and Texas before earning her Wings of Gold in 2010, and training to fly the F/A-18 Superhornet. LCDR Thiriot served flying tours with the VFA-81 SUNLINERS, the VFA-106 GLADIATORS, and the VFA-143 Pukin' Dogs.  She deployed in support of Operation Inherent Resolve on the USS CARL VINSON (CVN-70) and the USS ABRAHAM LINCOLN (CVN-72). On shore duty, LCDR Thiriot was an F/A-18 instructor pilot, an F/A-18 Tactical Demonstration Team pilot, and a Flag Aide.
Meeting WCC Purple
The service dog bearing her name was recently placed with a Veteran, and Danielle shared how much it means to her knowing a service dog named in her honor is helping other Veterans.  "It's an honor to have 'Purple' named after me and to know that she will live a life dedicated to serving Veterans," said Danielle. She was even able to meet the dog named in her honor. "I love dogs and have enjoyed watching her progress through training. I had the chance to meet 'Purple' in California last year and learned we share a love of food!" 
When asked to reflect on her service, LCDR Thiriot shared, "I've been privileged to serve on some amazing teams during my time in the Navy and have made lifelong friends. The incredible power of the right team, working together toward a common goal, is something I will never forget about my time in the Navy. I have witnessed the reality of the sacrifice and commitment it takes to serve - and have friends who have made the ultimate sacrifice, giving their lives in service to our country. Remembering and honoring their service has been an important and impactful part of my career."
WARRIOR CANINE CONNECTION'S MISSION
"Our Service dogs have an important mission—to carry on the legacies of these heroes while helping recovering Veterans who have sacrificed so much for our nation," says Rick Yount, founder and executive director, Warrior Canine Connection. "We feel it's important that those Veterans have their stories told and their lives honored through our namesake program. We believe when a Veteran's name is spoken, they are always remembered."
Help support Warrior Canine Connection and their life-changing work through our HuggleCause program and consider ordering the Limited-Edition Luke and Tommy II Knotties® and donate a portion of the proceeds toward Warrior Canine Connection.
Backed by our HuggleHeart Promise™
Each HuggleHound™ is made with care to be a lasting companion for your companion. Look For Our Heart™ to know you're getting a hand-stitched HuggleHound™ with our one-of-a-kind designs and exclusive Tuffut Technology®!