The Tuffut-Lon™ Chew Designed for Dogs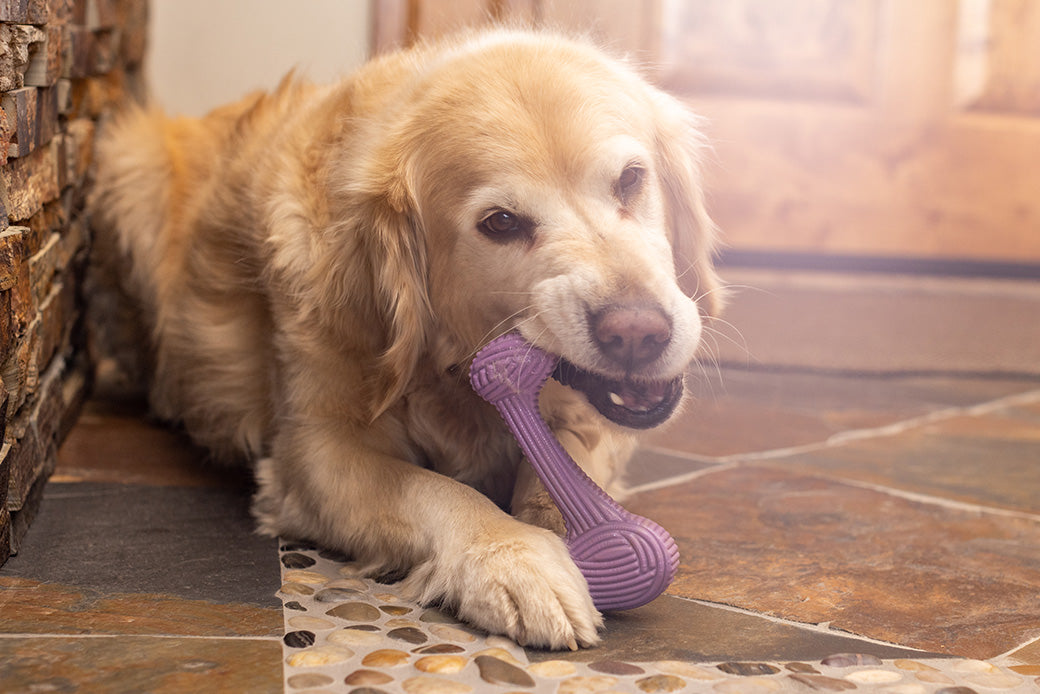 Our Tuffest Toy to date! The HuggleHounds® Tuffut-Lon™ Bobb toy has what every (real-tuff) pup is after. Designed in our "bone-only-better" shape and made of durable nylon, Bobb gives pups who love to chew the perfect toy to satisfy their instincts. Along with the ability to anchor the toy with their paws, this is a toy that's not going anywhere for a while
We designed the Tuffut-Lon™ Bobb with a dog-first design in mind – just like all of our toys. This one truly takes the cake in considering how a dog's mind really ticks! Learn more about its features, benefits, and physiological design that's great for pups below.
Easy to Hold In Place
The design of the Tuffut-Lon™ Bobb makes it easy for pups to hold in place and chew on to their heart's delight. With a hefty base wide enough for your dog to wrap their paws around, any dog can anchor Bobb to the floor to hold as they chew away. Toys that require thumbs will only get your dog so far. This "bone-only-better" design helps your pup tap into their natural instinct to gnaw and chew, which encourages mental stimulation and prevents boredom.
Won't Go Without a Fight
The hard nylon makes chewing and gnawing for hours on end simple. We're sure you've run into toys that seem durable and then your pup proves you wrong in a matter of hours. Tuffut-Lon™ Bobb isn't going anywhere–at least without some serious determination. The durable nylon material and design of the toy overall mean hours of enrichment for your pet. So they can chew away without making much of a dent. You can feel reassured your pup has finally met its match in a toy.
Grilled Chicken Flavoring
As if the deal weren't sweet enough already, this toy is all the more enticing to pups for its delicious and exclusive HuggleHounds® Grilled Chicken flavoring that lasts the life of the toy. Dogs can smell the tempting treat and continue chewing and gnawing for hours. It's a great way to keep them busy and satisfy their natural instinct without overindulging on treats. You may be amazed how long your pup can go after this "bone" before they get bored. Rest assured, they're sure to come back for more later, too!
Different Sized Nylon Toys
Last but certainly not least, we made Tuffut-Lon™ Bobb in a variety of sizes from Wee to Large for pups of all species and sizes. What fun is it to have a toy that doesn't fit in your pup's mouth which leads to lost interest quickly? And you certainly don't want a toy that's too small for your big dog, which can pose a hazard. We want to help pups make the most of playtime and make sure you feel confident that your pup has thoughtfully crafted toys. No tricks and trinkets, just down to the basics like every dog needs.
Get the Most Out Of Tuffut-Lon™ Bobb!
This latest Product of the Week really is designed for dogs. See for yourself the benefits your dog will get out of this "bone-only-better" toy. Keep your dog active, enriched, and tapped into their natural instincts – and be amazed when Tuffut-Lon™ Bobb is still around after a while.
Backed by our HuggleHeart Promise™
Each HuggleHound™ is made with care to be a lasting companion for your companion. Look For Our Heart™ to know you're getting a hand-stitched HuggleHound™ with our one-of-a-kind designs and exclusive Tuffut Technology®!