Huggle-Fusion™: The Perfect Combo of Ruff-Tex® & Knottie® Features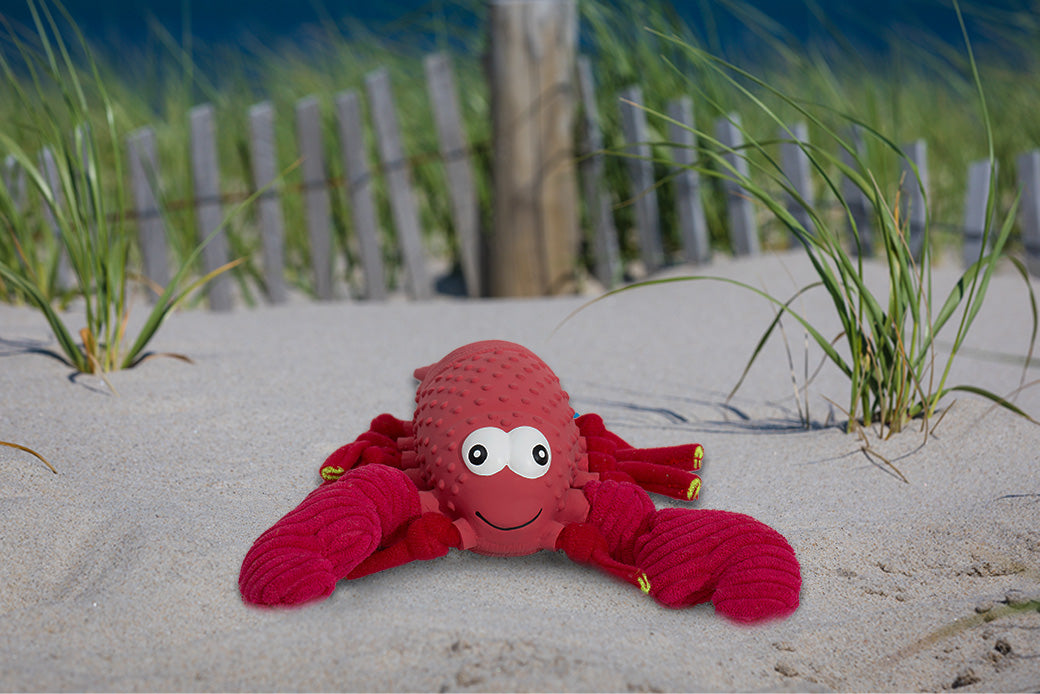 Introducing our latest & greatest in the Huggle-Fusion™ family: McCracken Lobsta! This pup-fect combo means all Huggle-Fusion™ toys have the super durable exterior of our Ruff-Tex® balls, paired with the ultra-soft knotted limbs of our best-selling Knotties®. McCracken has "pass-through" knotted arms and legs that extend through his Ruff-Tex® body, so your pup is ready for maximum tugging & play.
McCracken really is the best of both worlds, but what do these great features actually mean and do for your dog? We explain it all below, and we're sure before you're through, you'll be ready to bring McCracken Lobsta Huggle-Fusion™ home!
What are Ruff-Tex® Balls for Dogs?
Ruff-Tex® toys are constructed with thick-walled latex and have excellent tear resistance. They're bounceable, stretch-able, and squeezable, made from all-natural materials. They're the perfect fetch toy given their bounce and design. All Ruff-Tex® toys are squeaky to engage your dog in playtime, bouncy for an added bit of fun, and buoyant so they're a great water toy, too. All Ruff-Tex® toys are hand-painted with paints that meet child safety standards.
HuggleHounds® Knotties
Tuffut Technology®
The Knottie® is the original HuggleHounds® design that we patented in 2009. Knotties® are known for their signature knots and multiple squeakers that make for seriously engaging playtime, designed for durability with our Tuffut Technology® – a three-layer lining that helps even our softest toys last longer than others. When you see Tuffut Technology®, it comes with our commitment for fun and stimulation, as the most durable plush toys around.
Huggle-Fusion™: Dog Toys from HuggleHounds®!
Why does all this matter to your dog? Dogs are motivated and built to rip, chew, and tear – it's normal dog behavior! Playing with toys like Knotties® & Ruff-Tex® helps keep your dog engaged, stimulated, and helps expend energy. Put them together, and there's no losing!
We're so excited to make more toys like McCracken for pups to play with that are made with these winning designs. We give our dogs toys to enjoy because we care and want the best for them. Toys provide emotional balance and physical & mental stimulation. We keep this in mind for all of our toys and know that our products are so much more than just dog toys.
Get the best of both worlds, and only the best of both worlds, when you bring home McCracken Lobsta and more of our Huggle-Fusion™ toys today!
Backed by our HuggleHeart Promise™
Each HuggleHound™ is made with care to be a lasting companion for your companion. Look For Our Heart™ to know you're getting a hand-stitched HuggleHound™ with our one-of-a-kind designs and exclusive Tuffut Technology®!